Do You Know Where Your

data

files

docs

is?
Business users are increasingly turning to cloud-based file sharing services because they are easy to set up and use. Employees can share files with co-workers, customers and partners, and synchronize documents across laptops, tablets, and mobile devices. Operating completely outside of IT's control, however, employees often place sensitive data on public servers and share it without oversight, leading to security and policy violations that cannot be prevented or tracked. Until now.
---
PocketData Overview
PocketData is an enterprise-grade file sync and share solution that is as easy to use as consumer-grade products, but is hosted in your data center, on your servers, using your storage. PocketData integrates seamlessly into your IT infrastructure, allowing you to deliver file sharing services that conform to your data security and compliance policies. Your employees will love PocketData's clean, professional user interfaces; you'll enjoy peace of mind, knowing that your data is under IT control at all times.
The Dangers of Consumer Grade File Sharing
The unauthorized use of cloud-based file sharing services in the enterprise has become so significant that IT analysts have dubbed it the "Dropbox problem". In a recent research report, Gartner warned, "consumer-grade file sync and share solutions are a risk to most organizations' sensitive data."
To be clear, the "Dropbox problem" is not isolated to one vendor. It is more broadly defined to mean the use of any cloud-based file sharing vendor that targets individuals (i.e., consumers and employees) with simple, inexpensive file sharing solutions. These services are seductively accessible – often free, and requiring only a name and email address – yet they are functional enough to cause irrecoverable security breaches when misused by well-intentioned employees.
Public Cloud Base File Sharing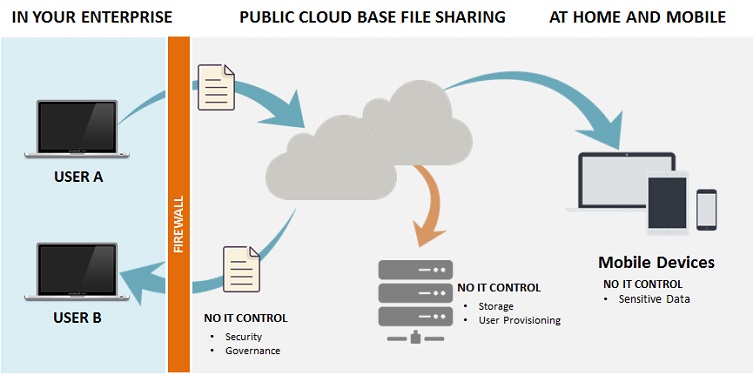 PocketData Solution
PocketData combines the usability and productivity users demand with the power and flexibility IT needs to keep data access under control with on-premise file sync and share. Users have access to a full suite of file sharing features, and can work collaboratively at their desks, from their laptops, on their tablets and on their phones. PocketData enables employees to share data any time, from anywhere. PocketData is fast and easy to install, offering IT infinite deployment flexibility. You choose the servers onto which PocketData is installed and where all files will be stored, leveraging storage across in-house devices and private/hybrid cloud storage services. Wizard interfaces enable you to integrate PocketData with existing LDAP/AD services (and any authentication service accessible via SAML), and PocketData's File Firewall provides you with advanced rules-driven access controls.
PocketData Scenario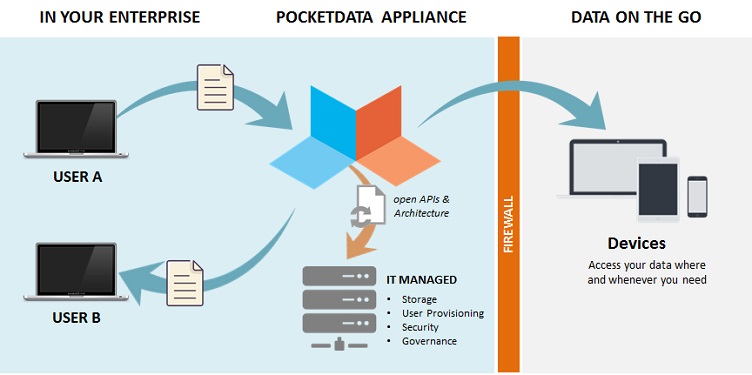 PocketData integrates seamlessly with your existing security, DLP, event logging, monitoring and back-up systems. And PocketData's out-of-the-box integration with Jive, the world's leading enterprise social collaboration solution, extends Jive with enterprise-class file sharing capabilities. In addition, PocketData's open architecture and APIs allow you to easily add corporate branding, and extend core functionality as needed to meet your evolving needs.
---